Celebrity Chef Guy Fieri is one of our favorite members of the Zone Recording Studio Hall of Fame, here in Cotati CA.  His gonzo attitude towards life and his passion for everything he does made all our recording sessions fun and exciting.  Plus, the Food Network, not to mention NBC, has budgets that exceeds some our local establishments.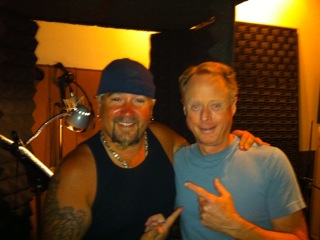 He first came to us nearly ten years ago in 2007, as his most popular Food Network show "Diners Drive-ins and Dives" was starting to air. Guy lives in nearby Santa Rosa, and when he needed to record some narration, he picked Zone Recording. In this show he travels the country with a production team, visiting famous and infamous eateries.   Guy interacts with the locals, takes big bites of the food, and joins the cooks in the kitchen to discuss, or rather, rave about recipies, styles, attitudes, philosophies and ways to attack an entrée.
For most of the show Guy is on camera, and either eating or talking.  But for the sections where the camera follows food prep, shows beauty shots of the results, and pans the crowds, Guy's narration was needed.
We would set him up in our voiceover booth with a microphone, script, and earphones.  Then, via our phone patch, the director in another part of the country could listen to Guy as he read the script and direct him through the earphones. (It's a difficult task and led to many hilarious outtakes, which I am unfortunately not at liberty to release) I would record only Guy's voice-over, and at the end of the session, FTP, or send, the audio files to the production studio, where they were waiting with the edited video, eager to drop his narration into the appropriate places in the show.  And of course the show probably had to air the next day so there was no room for error.
Through it all, year after year, he kept up his good humor and supportive nature.
Things really got exciting when he landed the game show "Minute To Win It" on NBC.  The first time my phone rang and the caller ID said "NBC" I thought they were calling to offer me a sitcom.  Actually they were inquiring about rates and schedules to do the same kind of thing for them.  The difference here was sometimes Guy had to dub in some lines that matched the video of him.  This is called ADR, or addition dialog recording.  We would set up a video monitor and he would watch himself and try to say the line exactly as he had said it on tape. When you are dealing with a national network, the timelines get shorter, the stakes get higher, and the money is better. 
Guy would always park his canary yellow Corvette or his canary yellow Hummer, or his canary yellow Lamborghini around the back of our building to not draw a crowd.  But when someone did recognize him, he took time to greet them and take pictures, sign autographs and everyone left feeling honored.  One day my Engineer at Zone Recording, Mathew Trogner, mention that he had a friend with a young daughter, who happened to be quite ill, and that she was a big fan of Guy's.  He thought for a moment.  "Get her on the phone" he said, and proceeded to have an inspiring conversation with her.
We will always be grateful to Guy for bringing his business to Zone Recording Studio, and for all the good times we had together.
"My parents were into macrobiotic cooking—vegetarian, nondairy, whole grains, no red meat. I started cooking when I was 10 because I just couldn't eat that stuff."

—Guy Fieri
Looking for more information about professional recording? Call Zone Recording Studio at (800) 372-3305 or email us at blair@zonerecording.com.