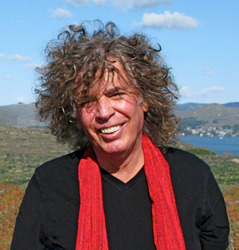 WHAT: "Hip-Trip" Benefit dinner, dance party, and silent auction
WHEN:  Sunday, March 23, 2014, from 5 to 9:30pm
WHERE: Sebastopol Community Center at 390 Morris St in Sebastopol
ADMISSION: $10 donation at the door
DINNER: From 5 to 7pm. Rasta Dwight's BBQ chicken dinner or veggie options, with plates from $5-$15. Snacks, desserts, Lagunitas beer, fermented drinks, and fine wines available all night long.
JAZZ CABARET: From 5 to 7pm. Randy Quan and Tim Haggerty's Collaboration, featuring guests Sarah Baker and Allyson Paige.
DANCE: From 7 to 9:30pm. Gator Nation, Uncle Wiggly, Blue Moon, Soul Fuse with Michael Barclay, Danny Sorentino, Levi Lloyd, Onye Onyemaechi, Gailene Elliott, Preston Bailey, the Bootleg Honey's and the Legendary Bronze Hog.
WHY: Benefit to raise funds to help local musician and music community advocate Frank Hayhurst with medical expenses.
Frank is no stranger to helping others facing similar financial concerns. About 25 years ago, alongside Zone Recording owner Blair Hardman, Frank co-founded "Musicians Helping Musicians". And, since then he has organized dozens of benefit concerts in support of musicians and their families facing health crisis situations.
Now, with the Hip Trip Benefit dinner, the community has a chance to return the favor by helping one of its own musicians.
On Frank: Frank Hayhurst, (aka Francis Rico Hayhurst), North Bay Area musician, music community advocate, and shamanic author, teacher and guide to the sacred sites of the world, underwent total hip-replacement surgery on February 7th, 2014, at Sutter Hospital in Santa Rosa, California.
Frank reports:
"I am totally, profoundly grateful!  Everything about the surgery went extremely well, and I was up standing two hours after the surgery – with a strong feeling of YES! in my body, where before there had been unrelenting pain! I'm also grateful that I was able to get insurance that covered the majority of the costs associated with the surgery.  After my music store, Zone Music, closed in 2010, I went a number of years without any insurance coverage, and even now, being self-employed, just having basic insurance is a major luxury."
We are all too familiar with the reality that health insurance covers only a selection of procedures and therapies, and that individuals are personally responsible for all other health related expenses. For Frank, his biggest additional expense is rehab and physical therapy. Acupuncture, loss of income and additional necessary therapy is not covered by insurance.
If you are one of Frank's fans, and would like to help out financially – but can't make it to the party – please make a donation here: 
If you are interested in being a volunteer, please contact Dodi at: dorothyo@sonic.net
For additional information, please contact Blair Hardman at:
blair@zonemusic.com or 707-664-1221.