Zone Recording specializes in forensic audio restoration for law enforcement agencies and attorneys.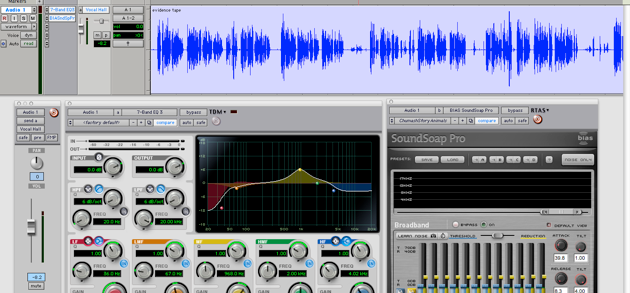 Vital evidence for criminal trials is often found in muffled, noisy, incoherent audio recordings.  At Zone Recording, our audio engineers and forensic audio specialist can successfully restore or "clean up" audio recordings that can then be used as evidence in a court of law.
Our software can reduce background noise and make voices intelligible. We work with micro-cassette, cassette, reel to reel, digital audio and video tape.
Our studio observes the evidence chain of custody. We also provide transferring and copying services in all formats.
Below is a detailed list of our forensic audio restoration services:
Acoustic Simulation for Accident Reconstruction
Acoustical Analysis & Sound Measurement
Acoustical Compliance
Acoustical Gunshot Analysis
Analysis for Timing and Sequence of Events
Audibility Analysis (voice, alarms, etc.)
Audio and Video Tape Authentication
Audio and Video Tape Enhancement
Authenticity Analysis
Demonstrative Evidence & Exhibits
Enhancement of Audio Recordings
Expert Testimony
Forensic Musicology and Copyright Infringement
Forensic Transcription
Patent and Technology Infringement
Voice Identification
Voiceprint Analysis and Voice Elimination
Forensic Audio Specialist available during regular business hours:
(800) 372-3305  /  (707) 664-1221
For more information, complete our contact form,