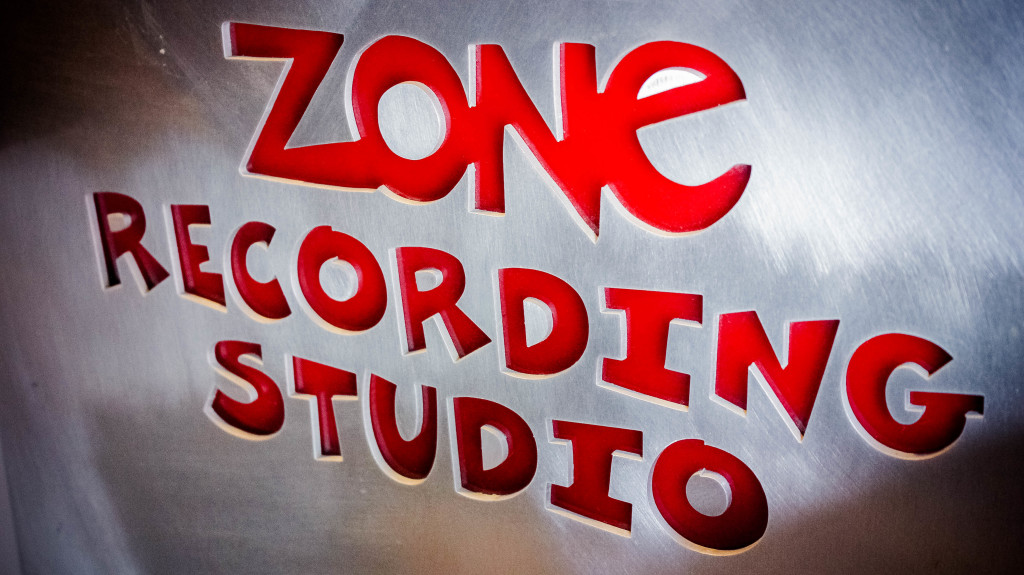 Stephanie Derammelaere of North Bay Biz Magazine released an article back in 2008 about our very own Blair Hardman of Zone Recording Studio. Read about it here.
How many businesses can claim an aspiring rock band, a government agency and a major corporation as clients? Zone Recording Studio in Cotati (otherwise known as Blair Hardman Productions) can. Zone is a production company that records music artists, creates corporate radio commercials and voice-overs and even does forensic audio restoration for police departments.
Perhaps having such a diversified clientele comes easily to a man who has a diversified past.
Owner Blair Hardman has done just about everything, including touring as a musician with the Ice Capades Orchestra and throughout Germany as a Country Cowboy. "In 1981, I joined a country and western group going on tour in Germany," he remembers. "It turned out to be sponsored by Marlboro cigarettes, and I had to wear the classic Marlboro white Stetson hat. For six months, we played at beer fests while beautiful German models in buckskin outfits gave out cigarette samples and T-shirts."
Later he became a nationally published crossword puzzle writer and worked as a morning DJ in Sonoma County for two years with partner Steve Jaxon on one of the North Bay's highest-rated morning shows, "The Jaxon and Blair Show" on KHTT/FM 92.9 "The Heat" (now Froggy Country).
"People still reminisce about their favorite moments," recalls Hardman. "For instance, one time we were playing a game called 'Name That Appliance,' and we started up a chainsaw in the studio. The smoke set off the fire alarm and, for two hours, there was beeping in all the studios while the fire department tried to figure out how to shut it off!
That's not the only audio mishap that influenced Hardman's current passion for getting audio just right.
"When I was the bass player in the Ice Capades orchestra, we played a week each in 36 cities in the United States and Canada—250 performances total," he says. "It was a little like running away and joining the circus. One night, during the big synchronized finale, the sound system malfunctioned, and half the band got on the wrong page. The skaters all crashed into each other and literally had to crawl off the ice."
While these experiences are a long way from producing audio commercials for corporate clients, they nevertheless shaped Hardman's attitude and gave him a spectrum of experience to draw on when working with a variety of clients.
"It's very broad, because these days, almost every company can use audio for something," says Hardman of his current clientele. "Whether it's for on-hold messages, websites, videos or commercials, it reaches into every industry and type of company."
It's truly a different world from when Zone Recording Studio first opened more than 25 years ago (as part of the Zone Music store) with just one $1,000 recording device. Today, this full-service recording studio offers Pro Tools HD Accel with lots of plug-ins, a Korg Triton synthesizer, video playback, 1/2- and 1/4-inch analog tape, excellent microphones, a drum booth, a vocal isolation room, a guitar amp room and a large control room. Though Zone Music, has since closed, musicians can audition equipment from the new store, Loud and Clear, during their recording sessions, including hundreds of guitars, basses, amps and effects (although Zone's website explicitly requests, "Please, no 'Stairway to Heaven'!").
Besides vastly improving its level of equipment, Zone Recording has also greatly expanded its clientele. In the beginning, the focus was on musicians, but now there are also large corporate clients, such as NBC, PG&E, The Food Network, Guy Fieri, Sonoma County Transit, Nintendo, Clover Dairy and the Sonoma County Department of Health, just to name a few. It's important to note, however, that musicians are still a large part of the business, and Zone currently records every type of music—except for full symphony orchestras due to limited space.
Rock On
According to Hardman, recording has been a passion of his since childhood, when his father purchased a reel-to-reel home recording device. "I used to interview the neighborhood kids," he recalls.
"I loved radio, and I loved the funny advertising on radio. Radio back then was just starting to get creative with advertising and humor. Then I became a musician. My first experience at high school of 'being somebody' was playing folk music at an assembly. I went overnight from being one of the masses to being invited to parties."
In 1970, Hardman moved to Sonoma County to attend Sonoma State University; about the same time, he began playing with Northern California singer-songwriter Kate Wolf and stayed with her for about two years.
" Kate didn't have the most fantastic voice, and she wasn't a great guitar player, but she wrote her own songs," recalls Hardman, "and when we performed them, the room was always perfectly still and quiet. People would just focus completely on her, because she had absolutely unwavering honesty in her music, and she spoke to the hearts of people directly."
Hardman continued working as a musician throughout the 1970s, with a variety of bands and playing every imaginable type of gig, until he purchased his first recorder for $1,000 in 1980; it was the first of its kind developed for home use and let anyone record four tracks—either at once or separately—meaning, for the first time, there was the ability to record oneself playing multiple instruments. About the same time, Hardman's friend, Frank Hayhurst, opened Zone Music in Cotati, a small, 300-square-foot, one-room store. Zone Music has since grown into a multimillion dollar business with an 18,000-square-foot complex that provides music-related services such as sales, rentals, audio-visual installation, lessons and repairs. When Hayhurst was first ready to expand the business, Hardman decided to rent a room in the store to teach guitar and do some recording for musicians. In 1983, Zone Recording was officially born.
Initially, since most of his clients were musicians, he recorded everything from demo tapes for wannabe bands to bigger names such as bluesmen Charlie Musselwhite and Johnny Otis, harmonica player Norton Buffalo, legendary drummer Hal Blaine (the world's most recorded musician, who's most known in California for his work with the Wrecking Crew but who also played on numerous hits by Elvis Presley, Simon & Garfunkel and the Beach Boys) and Chris Hayes, who was lead guitarist for Huey Lewis & the News for 20 years and wrote "Workin' for a Livin'," among other HLTN tunes.
" Blair has a great facility that's very organized and professional," says Hayes. "He's a good guy and has good guys working for him. Zone is one of the nicest facilities around. If I have any questions about recording stuff or gear, I call him to see what he's doing and what's new."
One of Hardman's favorite musicians is guitarist and songwriter Nina Gerber, who got her start playing with Kate Wolf as a teenager.
"Nina has that same impeccable musical honesty that Kate had," says Hardman. "She can play everything from a sweet acoustic tone to nasty electric blues, and she can shape her tone to fit perfectly into the mix of the music. But she doesn't play a note unless she means it. She's funny, irreverent and an emotionally captivating musician."
Beyond musicians
"The recording began to take over," says Hardman, returning to the Zone story. "I recorded for bands, singers and songwriters. At that time, I still had beginner-type recording equipment. Then I began a whole evolution of getting more and more—and better and better—professional equipment. Gradually, computers started to become involved. I went from cassette to reel-to-reel tapes to digital tapes to a combination of that and computers, and then completely into computers, which I've since upgraded about three times."
Better equipment led to an expansion of recording services, which, in turn, led to an expanded roster of clients. "Another component is voice-overs for commercials, videos and audio books, because I'm a voice actor," explains Hardman. "In fact, we worked on—and I'm in—the biggest-selling audio CD book of all time, The Secret. I've been in quite a few audio books for Simon & Schuster; they're a big corporate client."
Local celebrity chef Guy Fieri uses Zone Recording to record voice-overs for "Diners, Drive-Ins, and Dives," a road-trip-type show on Food Network.
"[The show's producers] will shoot Guy on camera, and then he comes here," Hardman explains. "The producer is in Denver, so we have him on the phone, patched into the earphones, so we can all talk. They'll take [various audio clips] and edit them into the show, and it sounds like he's continuously talking, on- and off-camera."
According to Fieri, his producer is a "real stickler," and the final voiceover is the critical component that pulls the whole show together. So getting the audio right is imperative to the final product.
"I've been all over the country, and I've done voiceovers in every state I've visited," says Fieri. "Without question, Zone Recording is one of the best—if not the best—that I've used. They keep the tracks organized and the signal clear. I didn't realize that until I started having to do voiceovers in other states, and what should've taken one hour took two. When I come into Zone, the scripts are ready and a bottle of water is waiting for me; they're really on point."
Zone Recording Studio also creates a lot of radio advertising, managing everything from jingles to copywriting to casting talent.
"[Writing and producing radio commercials] is really one of my favorite things," says Hardman. "Because I get to write funny, creative commercials, cast the talent and hear them on the radio the next day!"
One of Hardman's clients is Michael Gerber, founder of business consultancy E-Myth Worldwide and author of several popular business strategy books. Zone edited the audio book The E-Myth Revisited and produced a radio talk show demo for Gerber.
" Blair is very, very committed," says Gerber. "He has a perspective about recording and a professionalism about him that I enjoy. He was responsive to me and to what I wanted. He was able to add his own perspective and his vision about what I was there to do—to give it color beyond what I was able to do myself, given my lack of experience in it. Overall, he made a very real contribution to what came out of the process in each case."
Hardman says one of the more moving parts of his job is archiving family memories by transferring LPs, 45s, 78s and all formats of cassettes to CD, as well as restoring old and noisy recordings. He's currently transferring 12 hours of reel-to-reel tapes from the 1950s—the life story of a client's grandmother that she dictated when she was 60 years old.
"I play it into the computer and then I'll put it on CDs with her picture on it. Then [the client] will give it to all the grandkids," says Hardman. "Some of the memories are incredible. People just cry when they hear these voices from the past."
Yet another intriguing service Zone Recording offers is "forensic audio" work, which is primarily used by police departments. "I work with local law enforcement agencies to enhance their surveillance recordings and 911 calls," explains Hardman. "I have software that reduces the noise and brings out the voices, so if they have a tape but can't understand what people are saying, I clean it up."
Hardman recalls a particularly interesting project that helped the Sonoma County Sheriff's Department convict several gang members who'd been arrested for assault. The individuals had been detained in a noisy location with a cassette running. Although the police could hear whispering, there was too much background noise to decipher the conversation. After Hardman eliminated some of the sounds, officers could hear the individuals coordinating alibis and could confront them with that evidence. Long story short, the suspects pled guilty and were sentenced to prison.
Hardman attributes the longtime success of Zone Recording Studio, at least in part, to this diversified client base.
"I can relate to stoner rockers and rappers. I even have my own rap nickname: Money B," quips Hardman. "But I can also relate to government when I work for the county and high-end, private sector corporate clients…I can relate to them all."
No matter who or what the subject, Hardman appears to be as passionate about recording now as he was as a child. "I like helping people realize their creative dreams. I get excited when someone comes in with an idea for either a radio ad or a song, and then I can take it to the next level of creativity and actually bring it to fruition," he says. "Only one out of every 100 people who want to make a CD actually follow through and do it. So it's an honor to work with people who have that kind of dedication."
Tech talk
Even though at-home recording devices have become increasingly sophisticated, Hardman claims this hasn't posed a competitive threat. If anything, he explains, being able to record one's own music has increased the work for Zone Recording, as more people become exposed to recording in general, and then want to step it up at a professional recording studio.
"These days, most musicians produce their own CDs and then sell them at gigs," says Hardman. "The independent music business has gotten so big, and it's so hard to get signed with a record label, that people do it themselves. They sell it online and on iTunes. It's really quite easy these days to get your CD online and available for digital downloads. "
But while technology may have made music production and distribution easier, it's also posed new challenges.
"As technology has made it so much quicker for us to be able to do things, the deadlines have gotten shorter," says Hardman. "It used to be, when someone wanted a radio commercial, we'd make it, put it on reel-to-reel tape and, possibly, send it to them in the mail. Now, they want it sent over the Internet, because it's supposed to start the next day. Because we can do it faster, now they want it sooner."
Another major change made possible by technology is the ability to fine-tune a singer's pitch or timing using software called Autotune. In essence, a singer today doesn't need to be as talented as in the past. Hardman says in many cases, this has spoiled people. Rather than attempting to sing their song perfectly, they'll now opt for a technician to fix it for them.
"There's an upside and a downside to the technology," says Hardman. "It's not uncommon for a singer to come in, do a few takes and then say, 'Will you put some pitch correction on that, and cut and paste me on all the choruses?' And I actually can. We have a joke around here that I don't show pitch correction software to kids, because we don't want them to know about it. Otherwise, they'll stop practicing."
Be true to yourself
Despite the temptation, Hardman stays true to the Zone Recording tagline, "Being at Zone Recording means never having to say you're sorry." He credits his extreme patience and people skills with making Zone Recording a unique experience for all his clients.
" When it comes to the working relationship between the studio and the client, [the clients] have to feel comfortable so they can relax and express their art," explains Harman. "We specialize in that here. I love working with people, and I'm extremely patient. You have to be patient when you're working with people in this type of situation. The studio is like a big magnifying glass, and people can get nervous and start concentrating on smaller and smaller things. You have to keep pulling them back to the big picture."
God knows, Hardman has had his share of audio mishaps that influenced the slogan.
"I played [with Kate Wolf] at the Great American Music Hall in San Francisco," he reminisces. "It's a very old room that precedes electronic sound systems. We were playing there one night and were about to do our encore, when the sound system went out and the microphones went dead. I said, 'Hey Kate, this room is older than microphones. Who needs 'em?' So we stepped up to the front of the stage, and she sang and we all played without any microphones…you could have heard a pin drop."
According to Hardman, despite technology becoming more accessible to the home user, he sees a bright future ahead—even within the music industry.
" The last five years, it's all gone online so people can sell their CDs anywhere around the world, and they don't need the record companies anymore," he says. "I think that's going to keep growing. Independent record labels used to be a very small part of the business, but I think it's just going to keep getting better for me. I see nothing but growth. The more people say, 'Hey, I can make an album,' the more people will either come here or they'll need my help finishing it. They'll bring it to me to do the mastering, which is the final polishing."
And, as more and more companies begin using audio for commercials, on-hold messages and the Internet, Zone Recording will continue to grow.
"Unlike 10 years ago, these days every business or corporation needs some kind of audio," says Hardman. "It could be voice-over and music for radio and TV ads, or sales and training videos. It could be podcast production, on-hold marketing messages or streaming audio for the company website, it could be our ISDN Source Connect line for super fast audio transmission."
So listen up, North Bay: That next song or radio commercial could have been recorded by…you.
Looking for more information about professional recording? Then call Zone Recording Studio at (800) 372-3305 or email us at blair@zonerecording.com.