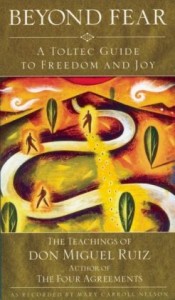 Blair Hardman, owner of Zone Recording Studio in Cotati, CA, recently obtained rights to record the audiobook Beyond Fear: A Toltec Guide to Freedom and Joy, The Teachings of Don Miguel Ruiz by multi-million selling author Don Miguel Ruiz and co-author Mary Carroll Nelson.
Don Miguel Ruiz is a Mexican author of New Age spiritualist and neoshamanistic texts. He was raised by a "curandera" (healer) mother and a "nagual" (shaman) grandfather in rural Mexico. Although Ruiz's family expected Don Miguel to carry on their centuries-old legacy in the Toltec tradition, Don Miguel chose instead to attend medical school to become a surgeon.
But, after a near-death experience transformed the direction of his life, Don Miguel decided to become a Shaman and moved to the United States to dedicate his life to healing the human mind. His mission resulted in the publishing of The Four Agreements, which became his most famous and influential work. The Four Agreements details four steps to achieving personal freedom and transformation. The book was published in 1997 and featured on the Oprah show. It has since sold around 4 million copies.
Prior to the success of The Four Agreements, Don Miguel and Mary Carroll Nelson wrote Beyond Fear. In the book Don Miguel guides his readers along a path of empowerment in which they learn to move beyond fear by following the foundations of Toltec wisdom.
After first meeting Don Miguel at his studio ten years prior when he came to record the audiobook The Four Agreements, Blair Hardman decided to seek the rights to record Ruiz's earlier novel Beyond Fear. The audiobook was narrated by Francis Rico Hayhurst and Jessica Varga McKay. It was released November 20, 2013 and has already sold 350 copies. The audiobook is currently available through iTunes, Audible and Amazon.
For more information, please email Zone Recording Studio at blair@zonerecording.com or call the studio directly at (800) 372-3305 or (707) 664-1221.